Stainless Steel Steering Wheels
Schmitt Marine offers a large variety of high quality marine grade Stainless Steel Steering Wheels from our U.S. and European Warehouses, perfect for salt water applications and ready for immediate shipment.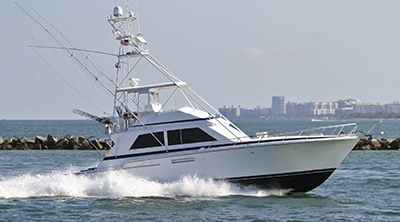 A boat's steering wheel is much more than just an implement to navigate from point A to point B. It is the helm's focal point, the embodiment of personality, an instrument emoting pride in ownership. A boat's steering wheel is the interface between seafaring owners and their true passion in life, spirited with anticipation as they prepare to embark on a thrilling adventure.
Just as with house parties where guests gather in the kitchen to chat with the host, much of the action of a boat is centered around the helm with the captain at the wheel. As such, potential buyers base their decisions largely on the tactile experience and aesthetic of the place where they will be spending most of their time. At the first touch of the wheel, boat buyers are already visualizing a cruise and determining if this is the right boat for their lifestyle.
Stainless Steel Wheels not only provide smooth, sleek and shiny lines for a classic look and comfortable driving experience, it is the most durable option on the market. View our tips on Stainless Maintenance.
Wheel styles range from Destroyer, Cast, Yacht, and Sport wheels, and are available with or without a control knob. The most common industry sizes are 13.5 inches and 15.5 inches, but we offer a range from 11 inches up to 30 inches. Check out all models and styles in our Catalog.
Stainless Steel Steering Wheels Lifetime Warranty
Schmitt Marine warrants to the original consumer against any defects in material or workmanship of the stainless steel steering wheels for the lifetime of the product. Along with proper installation, care and cleaning, we further fully guarantee the mechanical integrity and bright finish of our stainless steel steering wheels to the original consumer for the lifetime of the product. View Full Warranty